"Prometei" in the Stalin Catacombs:
Festival of Light, Prague, CSFR, 28 July-4 August 1991
Bulat M. Galevev
After the international festival "Ars Electronica-89," which I wrote about in a previous issue of Leonardo [1], I took part in the "WRO-89" festival of video art in Poland [2], the Second International Symposium of Electronic Art (SISEA) in Groningen, Holland [3], the Soviet-American Symposium "Graficon-91" in Moscow [4], and the international festival of experimental art "Impakt-91" in Utrecht, Holland [5]. All of these events highlighted a number of new and interesting ideas and works - especially new and interesting for Soviet viewers, although as time goes by we are getting accustomed to novelty. At every new meeting we meet more and more friends, but the world is still a huge place, and causes for wonder still exist.
The Stalin Catacombs are fairgrounds in Prague where these days young artists from many countries organise avant-garde exhibitions. The catacombs are unfinished concrete vaults under a giant monument to Stalin that was built many years ago on the highest ground of the Czech capital above the Moldau River. About 30 years ago this monument was destroyed; in its place is now a giant metronome (Fig.1). In these catacombs, at the end of 1990, among the concrete pillars and debris of the former monument, the international exhibition "Totalitarian Zone" was organised.
Fig. 1. The entrance to the "Festival of Light" at the Stalin Catacombs,
Prague, July-August 1991.
The following event, "Festival of Light," took place July-August 1991. Of course, the SKB "Prometei" light-music collective of which I am the head could not ignore an invitation to Prague. However, when we drove up to the catacombs and saw the slogan above the entry, which read "Devoted to the year of Tibet," we realized that it would be dark in the catacombs. It became clear that the main focus in Prague was on "internal light," or the light of the soul. The most powerful physical sources of light there were candles - lots of candles. They were mounted everywhere: in pyramids of zinc-coated buckets, in the eye-sockets of skulls, in holes from which rainwater dripped from above. The exhibition was opened with a solemn procession of candles in the hands of a Tibetan lama accompanied by a motley crowd of young hippies, Hare Krishnas, punks and sedate representatives of the Soviet avant-garde. Dusty cement, dripping water, blinking lights, meditation and exaltation, exotic characters and mysticism were all part of the setting for this modern art show. The main concern of the participants was to avoid stumbling and falling in a hole. Solitary viewers walked in darkness, afraid of stepping on works ofart - installations were everywhere. The largest installation consisted of circles, spirals and stakes of stones reminiscent of the magical, ritual structures discovered by archaeologists (for example, Stonehenge in England, or on the Solovetskiye Island in Russia). Modern apparatus was also used in some installations, but light sources were no greater than a candle. Czech artist Tomas Ruller mounted a small laser at the beginning of a very long concrete ditch; viewers moved along the faint, red beam looking for its end, where it rested against a nickel-plated shovel stuck in a heap of gravel. American Steve Weinstock splashed the beam of a similar 5-mW laser made by the Tesia firm, with the help of mirrors from a circulating kinetic construction. Weinstock also presented "rainbow" holograms. From my point of view they were the most brilliant element of the exhibition.
Additional viewers came to the evening performances. I recall three of these in particular - Bhagavadgita by two artists from the United States (a vocal/choreographic work on Oriental themes), a performance by an experimental theatrical collective from Bratislava, and a pantomime by the Soviet group "Derevo" ("The Tree") (a synthesis of the aesthetics of medieval Japanese theatre, the theatre of the absurd and aggressive punk culture). "Derevo" sh6cked not only us but also other guests, who rapidly applauded these skinhead children of Perestroika.
The performance of SKB "Prometei" was quieter. It contained light-musical films and about 10 video installations, among which were "Electronic Baby", which has been popular on several continents; "Electronic Court"; and the video composition "Never Refuse a Prison Cell or a Beggar's Bowl" (Fig.2) [6].
Fig. 2. SKB "Prometei," Never Refuse a Prison Cell or a Beggar's Bowl,
video installation. "Festival of Light" at the Stalin Catacombs,
Prague, July-August 1991.
I will report in detail about our new video installation, entitled "Dog Barks, Caravan Keeps Moving", which was prepared especially for the Prague festival (Fig. 3). Of course a photo cannot fully represent our work, for at the "Festival of Candlelight" not even extra-sensitive high-speed film was useful.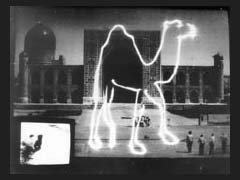 Fig. 3. SKB "Prometei," Dog Barks, Caravan Keeps Moving", installation including video, slides, computer-programmed laser light, music. "Festival of Light" at the Stalin Catacombs, Prague, July-August 1991.
On a single, white screen were images combined by two automatic slideprojectors in dissolve mode. On the slides were landscape and city scenes from different countries. Through these smoothly changing views, a laser drew a slowly walking animated camel. (For this purpose we used an electromechanical oscillograph/scanner with a pair of small mirrors oscillating along the x and y coordinates.) A computer directed the signal. The slides changed continuously, and the camel walked, accompanied by the "caravan" music of Ravel's Bolero in an endless loop program. Such a work could not have been made before this century, for it embodies an unusual synthesis of music, image and word, and uses mostly progressive techniques: audio, video, slides, laser and computer.
New technology provides new art opportunities. We verified this during a visit to the studio of Prague's scenographer Josef Svoboda - founder of the theatrical "Laterna Magica" (magic lantern). His was a fantastic show: a live actor crossed from the stage into the cinema or video screen and back onto the stage. Several screens of different geometrical shapes were used [7].
We also greatly extended the frame of the Festival of Light by visiting Prague's "Black Theatre" (luminescent decorations shining in the darkness under ultraviolet light - an old effect but used wittily and with elegance here). During the last day we visited an industrial exhibition and saw recently created light-musical fountains. It was a nice show!
The organisers of the catacombs exhibitions - Prague's Lunhart Foundation, along with colleagues from England, the United States, Italy and India - propose the creation of a fulltime International Youth Center of Modern Art in the Stalin Catacombs.
References
Published in LEONARDO, vol.27, No.5, pp. 440-441, 1994